Become a Volunteer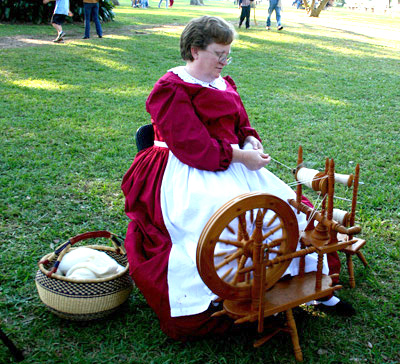 If you love history and have a little time that you would like to devote to volunteering, consider joining the Liendo Plantation family of volunteers. Whether joining as a Docent or Special Events member you'll meet many new friends and enjoy the benefits of being a volunteer and a supporter of historical preservation.
We are deeply appreciative of the volunteers who support the work of the our full time staff with their time, energy and interest to make Liendo Plantation and its story a compelling educational experience for all who visit.

Volunteer positions include:
Docent – Liendo Plantation recruits volunteer docents to share the history of the house and its collection with the public.  Docents use their passion for history to lead visitors on tours, to educate and entertain them.  Our team of docents provide the vital link between the history of Liendo and its visitors.  Docents may also volunteer to organize public programs at Liendo.
Junior Docent – The Junior Docent program allows middle and high school students the opportunity to explore history through research and immersion education while assisting the members of the Liendo Plantation Docent team.  These bright young students earn volunteer hours while enriching their lives with the fascinating history of Liendo Plantation.
Special Events – Throughout the year, Liendo Plantation hosts special events to further the cause of keeping history alive in our community.  Our special events volunteers are the foundation of these events, providing a variety of functions, both on and off site, to keep our events running.  Event volunteers play an integral role in all of our events by interacting with visitors, assisting staff and providing support for event planning operations.    
Current opportunities for special event volunteers are for the 20th Annual Civil War Weekend and include: assistance with event parking/crowd control, courtesy transportation for the elderly and disabled, event logistics support, event information support, vendor support staff and more!  The event takes place November 22-24, 2019 but some support staff is needed sooner.  We need all the help we can get for this so sign up not to help make our 20th Anniversary a success!
Volunteers – For prospective volunteers who want to lend a helping hand, but don't necessarily want a public speaking role, there are still numerous opportunities to get involved as a "behind the scenes" volunteer for Liendo Plantation. From marketing and office volunteers to garden volunteers and researchers, there are many important ways to become a part of the Liendo Team.

Training is available for all new volunteers. For more information on the benefits of becoming a volunteer,
Please call us at 979-826-3126 or Email us today