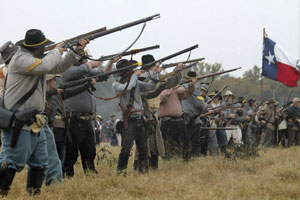 Liendo Plantation hosts the Annual "Civil War Weekend" on the weekend before Thanksgiving to provide an immersion experience in the time period of the American Civil War.  Spectators from all across the state visit to explore 19th century life and its impact on the development of our nation. Over 1,000 re-enactors and living historians from throughout the United States attend the annual event.  Our 3 day event kicks off with School Day on Friday, with 2,000-3,000 students and their chaperones for a day of living history.  Saturday and Sunday are open to the general public with thousands of spectators per day visiting  the event to experience American History first-hand!
Vendor spaces are available in specific areas for Arts, Crafts, Antiques, Food, etc.  Booth spaces are roughly 15 X 15 in outside areas. The event will provide space only.  Exhibitors/Vendors are required to provide their own tents, displays, tables, chairs, etc…  Rental of a booth space is per weekend and cost will vary depending on size and requested amenities.  Electricity and water access are available, but limited, so early application is important for vendors who require these amenities.
Exhibitors are encouraged to dress in period Civil War attire and carry the period theme in their booth space, though this is not a requirement for participation.  Join us for a truly unique festival experience at Civil War Weekend!

Digital and printable vendor applications available now for Civil War Weekend 2017!
Become a Vendor, Exhibitor, Sutler or Demonstrator at Liendo!

Reenactors, register for Liendo 2017 at the link below